---


This is a picture of 36 of the more than 140 different woods that were used on the Queen Mary. This picture is made up of different wood pieces and then assembled like a puzzle. Originally this picture was kept in the shipyard for advertising. It was moved to the Queen Mary when Long Beach bought the ship.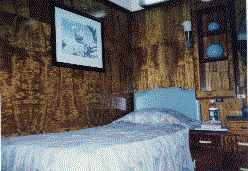 I stayed in cabin A-135. It was originally cabin A-93. This cabin has beautiful polished wood paneling that runs from the ceiling to the floor. Everything seemed pretty original to me. Entering the cabin was like stepping back in time. A time when attention to detail was common and luxuries were expected.

I really enjoyed my stay in this cabin. The view was splendid. Looking down into the water you could see schools of fish swimming by. I decided to feed them crackers. It didn't take long before a large school of fish had formed and about twenty seagulls were circling my porthole catching the crackers in mid air.








Ride The Rails! Click And See!

Click on the graphic to vote for this
page as a Starting Point Hot Site.

Last Modified On December 04,2002
Comments Or Suggestions E-Mail Me
Copyright 1998, 1999, 2000, 2001, 2002 Tracy All Rights Reserved